Drone DJI Mavic 3 Classic (RC-N1)
---


Mavic 3 Classic - Explore Vivid

Przekonaj się, jak dobrze mogą wyglądać zdjęcia i filmy wykonane z lotu ptaka. Mavic 3 Classic to nowy dron DJI, który wyróżnia się imponującą wydajnością i został wyposażony w najwyższej klasy kamerę Hasselblad. Umożliwia nagrywanie filmów 5.1K, pozwala korzystać z mnóstwa inteligentnych trybów i może latać nawet przez 46 minut. Nie musisz też obawiać się o bezpieczeństwo - do dyspozycji masz transmisję wideo O3+, zaawansowaną funkcję RTH oraz system APAS 5.0, który odpowiada za wielokierunkowe wykrywanie i omijanie przeszkód. Spójrz na świat z nowej perspektywy i stwórz swoje najlepsze ujęcie! W skład zestawu wchodzi również aparatura sterująca DJI RC-N1.


---

Lepsza jakość obrazu dzięki kamerze Hasselblad

Kamera drona została zaprojektowana specjalnie z myślą o urządzeniach z serii Mavic 3 - za jej wykonanie odpowiada kultowy szwedzki producent Hasselblad. Udało mu się umieścić profesjonalną matrycę CMOS 4/3 w niesamowicie kompaktowej konstrukcji, możesz więc wygodnie tworzyć najwyższej jakości zdjęcia i filmy. Efektywne piksele 20 MP, 12-bitowy RAW, regulowana przysłona f/2.8-f/11, technologia VDAF i ogniskowa równoważna 24 mm - wszystko to pozwala przenieść obrazowanie na zupełnie nowy poziom. Na uwagę zasługuje także specjalne rozwiązanie Hasselblad Natural Color Solution, dzięki któremu z łatwością uzyskasz piękną, idealnie odwzorowaną, naturalną kolorystykę.


---

Obrazowanie na najwyższym poziomie

Z DJI Mavic 3 Classic bez trudu nagrasz nasycony szczegółami film 5.1K/50FPS. Możesz też stworzyć zapierające dech w piersiach ujęcie slow-motion HD. Ponadto technologia supersamplingu umożliwia filmowanie w 4K/60FPS, HLG gwarantuje większy zakres dynamiczny, a 10-bit D-Log zapewnia naturalne stopniowanie kolorów, pozwalając zachować większą liczbę detali w cieniach i jasnych obszarach obrazu. Zdarza Ci się nagrywać w trudnych warunkach oświetleniowych? A może chcesz uchwycić widowiskowy zachód słońca? Włącz tryb Night Shots, który redukuje szumy i optymalizuje materiał nagrany przy słabym świetle!


---

Czas lotu do 46 minut

Zyskaj więcej czasu na zwiedzanie przestworzy i tworzenie perfekcyjnych ujęć. DJI Mavic 3 Classic cechuje się kompatybilnością z akumulatorami przeznaczonym dla dronów z serii Mavic 3. Co to oznacza w praktyce? Teraz możesz cieszyć się czasem zawisu do 40 minut i czasem lotu na poziomie nawet 46 minut! Bez obaw eksploruj okolicę, wykonaj mnóstwo wspaniałych zdjęć i nagraj niepowtarzalny film - z Mavic 3 Classic niebo jest Twoim placem zabaw!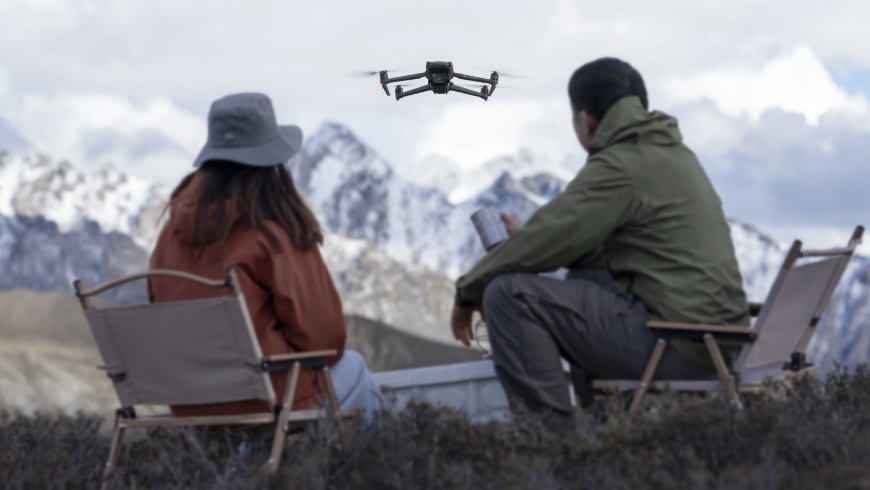 ---

Nic nie stanie mu na przeszkodzie

Pożegnaj obawy i ciesz się większą pewnością siebie podczas lotu. DJI Mavic 3 Classic obsługuje zaawansowany system APAS 5.0, dzięki któremu może nie tylko wykrywać przeszkody we wszystkich kierunkach, ale też płynnie i szybko je omijać. Dostępna jest również zaawansowana funkcja RTH, która sprawia, że dron jest w stanie automatycznie zaplanować optymalną, bezpieczną trasę powrotu do punktu startu. Mavic 3 Classic będzie zatem doskonałym wyborem również dla początkujących użytkowników!


---

Szereg udogodnień - przyjemniejsze latanie

Ułatw sobie tworzenie podniebnych ujęć. Mavic 3 Classic wyróżnia się wysoką precyzją pozycjonowania i decymetrową dokładnością, dzięki czemu pozostaje niewiarygodnie stabilny podczas zawisu. W efekcie możesz uzyskać jeszcze lepsze filmy timelapse i wyraźniejsze ujęcia z długim czasem ekspozycji. Nowy dron DJI ma również tempomat, co oznacza, że aby lecieć w wybranym kierunku, nie musisz przez cały czas naciskać drążków aparatury sterującej. Dzięki temu loty na dłuższe dystanse stają się znacznie przyjemniejsze. Możliwe jest także zredukowanie wstrząsów kamery podczas ręcznego sterowania, co sprawia, że gotowe ujęcia są dużo płynniejsze.


---

Niezawodna transmisja wideo z systemem O3+

Masz w sobie duszę odkrywcy? Chcesz swobodnie eksplorować okolicę, patrząc na nią z lotu ptaka? Postaw na DJI Mavic 3 Classic! Ten wyjątkowy dron wykorzystuje zaawansowany system O3+, dzięki któremu umożliwia niezawodną transmisję na żywo o zasięgu do 8 km. Przesyłany obraz wyróżnia się rozdzielczością nawet 1080p/60FPS, co oznacza, że to, co widzisz na ekranie smartfona lub aparatury, jest bardzo zbliżone do tego, co rejestruje kamera. Co więcej, zastosowana technologia sprawia, że Mavic 3 Classic cechuje się większą responsywnością.


---

Mnóstwo inteligentnych funkcji

Chcesz tworzyć jeszcze ciekawsze materiały? Z DJI Mavic 3 Classic to możliwe! Dron oferuje cały wachlarz inteligentnych funkcji, dzięki którym nadasz swoim filmom niepowtarzalny charakter. ActiveTrack 5.0 pozwoli na śledzenie wybranych obiektów, z Hyperlapse bez trudu przyspieszysz upływ czasu, a Panorama pomoże Ci uchwycić cały krajobraz na dużym, nasyconym szczegółami ujęciu. Początkującym użytkownikom z pewnością spodobają się tryby QuickShots i MasterShots, które automatyzują nagrywanie i umożliwiają tworzenie spektakularnych filmów za pomocą kilku kliknięć. Dostępny jest także High-Speed Quick Transfer, który pozwoli Ci szybko przesłać materiały na telefon.


---

Aparatura sterująca DJI RC-N1 w zestawie

Ciesz się prostą i wygodną obsługą drona. W skład zestawu wchodzi standardowa aparatura sterująca DJI RC-N1. Wystarczy podłączyć do niej smartfona lub tablet z zainstalowaną aplikacją DJI Fly i już możesz unieść się w przestworza! Urządzenie dobrze leży w dłoniach i jest bardzo wygodne w obsłudze. Przekonaj się, że sterowanie dronem może być naprawdę proste!


---

Wypróbuj dostępne akcesoria

Zyskaj jeszcze więcej możliwości i ułatw sobie tworzenie oryginalnych ujęć. W oddzielnej sprzedaży znajdziesz kilka przydatnych akcesoriów, dzięki którym korzystanie z drona stanie się jeszcze przyjemniejsze! Możesz na przykład kupić zestaw filtrów ND (ND8/16/32/64), aby zyskać możliwość nagrywania doskonałej jakości filmów nawet w trudnych warunkach oświetleniowych. Dostępny jest również obiektyw szerokokątny, który pozwoli Ci uzyskać szerokie pole widzenia 108° - teraz bez trudu zmieścisz w kadrze wszystko, co chcesz! Na uwagę zasługuje także zaawansowana aparatura DJI RC Pro, która została wyposażona w wyświetlacz o jasności 1000 nitów oraz niesamowicie wydajny procesor.


---
Zawartość zestawu:
DJI Mavic 3 Classic x1
Inteligentny akumulator DJI Mavic 3 x1
Osłona transportowa DJI Mavic 3 Classic x1
Śmigła DJI Mavic 3 x3
Ładowarka sieciowa 65W DJI x1
Przewód USB-C x1
Aparatura sterująca DJI RC-N1 x1
Zapasowe drążki DJI RC-N1 (para) x1
Przewód DJI RC-N1 RC (złącze USB-C) x1
Przewód DJI RC-N1 RC (standardowe złącze Micro-USB) x1
Przewód DJI RC-N1 RC (złącze Lightning) x1
---