Helicopter Align T-REX 500XT Dominator M Combo
Brand New 500EFL Main Rotor Head Set

The brand new low CG 500EFL Flybarless Rotor Head System utilizes the precision grinding of high-carbon steel hollow shaft effectively increase its concentricity. Allow to reduce resistance during 3D maneuvers, increased flight reponsiveness and precision. In addition, the style appearance harmony with red anodized and stainless color, bring out the high quality just like 700 size 3D helicopter.
---
520MX Brushles Motor (1600KV / 3527)

New 520MX motor features high efficency, superior power, excellent torque, low current draw, and low operating temperature. Allow to provide maintaining consistent torqque and head speed through continuous 3D maneuvers.
---
The 3rd Main Shaft Bearing Block
An additional 3rd main shaft bearing block increases the strength of the main frame while improving 3D flight.


1.6mm 3K Carbon Fiber Main Frame
Carbon fiber side frame plates are manufactured using proprietary composite material integration technology which integrates the battery mounting rails into the frame. This unique use of open space within the frame vreates a rigid frame and is aesthetically pleasing.


CNC Metal Shapely Reinforcement Plate And Brace Assembly
Brand new CNC metal reinforcement plate and brace compare with frame mounting bolt effectively increase the torsional strength of main frame, under extreme 3D maneuver, you can strongly feel its solid reinforcement from structure. In addition, the styling appearance harmony with red anodized and stainless color bring out the high tactile appeal.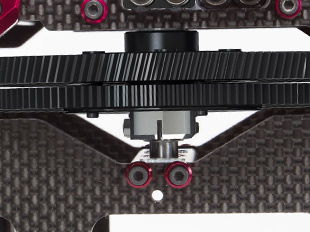 ---
Quick release battery mounting plate
Brand new latching battery tray which utilizes integrated mounting rails inside the frame to simplify insertion / removal of battery while providing protection for the battery.


New RCE-BL80X 80A Brushless ESC
Specially designed for T-REX 500X providing higher currency output and support for high voltage servos with an internal BEC output from 6V to 8.4V which can be set up based on servo specification.


---
Specifications
DS530M HV Digital Servo
Rating voltage: DC 6.0V - 8.4V
Temperature range: -20°C ~ +60°C
Stall torque: 6.5kg/cm @ 6.0V, 9.0kg/cm @ 8.4V
Motion Speed: 0.085sec/60° @ 6.0V, 0.065sec/60° @ 8.4V


Specifications
DS535M HV Digital Servo
Rating voltage: DC 6.0V - 8.4V
Temperature range: -20°C ~ +60°C
Stall torque: 5.0kg/cm @ 6.0V, 6.5kg/cm @ 8.4V
Motion Speed: 0.05sec/60° @ 6.0V, 0.035sec/60° @ 8.4V


---

Special Qualified Washer
Advanced Aluminium CNC cutting manufactures, clean aesthetic perfectly exhibits the helicopters exclusiveness.


---
 500 Slant Thread Main Drive Gear Set
Utilize of Strenghten main gear case features in using larger bearing has a higher load carry capacity which reduces the loss of momentum and improves the efficency, speed and smoothness of the main rotor. The new main gear case and all-metal central pulley transmission system is an efficent design to deliver the ultimate performance.
---

Progressive Lightweight Landing Skid
Landing Skid is tilted 5 degrees forward to improve crashworthiness.


470 Main Blade
New extended 470mm main blades for T-REX 500X effectively improve the flight stability and power performance. Enhance the power for better control allow to enjoy T-REX 500X flights same like other large size helicopters.

---

Carbon Fiber Tail Control Rod Assembly

Carbon Fiber Tail Control Rod is practical and improves the helicopters tail control.
---
Tail Control Unit
The newly designed dual point supported tail control assembly delivers slop free performance while improving rudder and precision.
---
 Brand New Tail Rotor Holder

The new Tail Rotor Holder design includes thrust bearings which increases durability, as well as significantly improving the accuracy and efficiency of tail performance when using 78 size Tail Blades.


78 Tail Blade
New 78 size Tail Blades are longer in length and offer superior and precise tail holding performance, even during demanding 3D flight.
---
Specifications
T-REX 500X
Length: 935mm
Height: 259mm
Width: 151mm
Main Blade Length: 470mm
Main Rotor Diameter: 1054mm
Tail Rotor Diameter: 219mm
Motor Drive Gear: 12T
Main Drive Gear: 134T
Main Drive Pulley: 80T
Tail Drive Gear: 21T
Drive Gear Ratio: 11.17:1:3.81
Weight (w/o power system): 1400g
Specifications
RCM-BL520MX
Input voltage: 22.2V (6S LiPo)
KV value: 1600
Continuous current: 85A
Surge current: 130A (2 sec)
Continuous Output power: 1900W
Surge Output power: 2750W (2 sec)
Stator dimension: 3527
Stator arms: 9
Magnet Poles: 6
Specifications
RCE-BL80X
Continuous current: 80A
Surge current: 100A
Supporting Input voltage: 7.4V ~ 22.2V
Supporting battery types: 2S ~ 6S LiPo/LiIon
BEC Output voltage: 2x 6V ~ 8.4V (Dual BEC)
BEC Output current: continuous 5A / surge 7A
---

Content

• 1x T-REX 500X Dominator Kit
• 1x 520MX Brushless Motor
• 1x BL80X Brushless ESC
• 2x 470mm Carbon Main Rotor Blade
• 2x 78mm Tail Rotor Blade
• 3x DS530M HV Digital Servo
• 1x DS535M HV Digital Servo

---
Required for assembly

• 1x Transmitter (7-channel or more, helicopter system)
• 1x Receiver (7-channel or more, suitable to Transmitter)
• 1x Pitch gauge or Digital Pitch Gauge
• 1x Flight battery 6S Li-Po 2600 ~ 4600mAh (3300mAh suggestion)
• 1x LiPo Battery Charger
• 1x Flybarless system